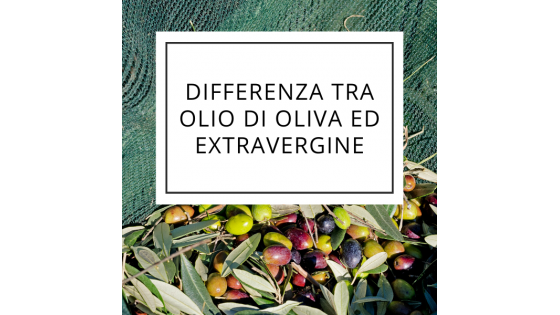 Difference between olive oil and extra virgin olive oil
When it comes to olive oil, you often also read the word extra virgin. In fact, not everyone knows that there is a big difference between extra virgin olive oil and olive oil (called instead virgin).
DIFFERENCES BETWEEN OLIVE OIL AND EXTRA VIRGIN OLIVE OIL
The European legislation (EEC Regulation No. 2568/91 and subsequent updates) has set the minimum quality standards that olive oil must present in order to be marketed under the term "Extra Virgin Oil":
It must be obtained by extraction with only mechanical methods.
The acidity of an extra virgin oil must never exceed 0.8% (while for normal olive oil this must not exceed 2%). In fact, acidity, or the concentration of free fatty acids, is one of the most important parameters for assessing the quality of an oil.
So we can say that qualitatively an extra virgin olive oil is always superior to a normal olive oil, both organoleptic and nutritionally.
For this reason, it is always important to buy oil from trusted producers, perhaps through online sales, rather than from the supermarket, where very often oils of questionable quality are present on the shelves.
If you want to know more about how to choose a good extra virgin olive oil read our guide on 4 things to keep in mind when buying it.