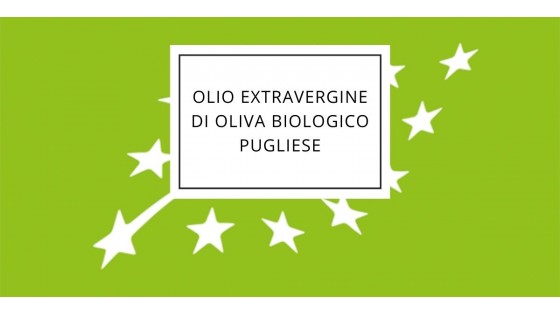 Apulian organic extra virgin olive oil
If extra virgin olive oil is already in itself one of the healthiest foods of the Mediterranean diet, its organic version even manages to do better. In fact, although from a qualitative and organoleptic point of view, organic oil does not differ from its traditional variant, it is undoubtedly superior from the point of view of healthiness.
WHAT IS ORGANIC OIL?
Organic oil, like all other foods in this category, follows specific rules. In particular, if at least 95% of the olives with which the oil was produced come from organic farming (see EC regulation no. 834/2007, which also prohibits the use of GMOs) then the oil can be called with the name of organic olive oil.
THE LABEL OF ORGANIC EXTRA VIRGIN OLIVE OIL
Therefore, if the oil is suitable to be defined as organic, the label may include the wording organic or organic and must explicitly report the organic product logo (the famous star leaf on a green background), the codes of the control body and of the operator and finally the indication of the origin of the oil through the use of the following terminology: EU Agriculture, Non EU Agriculture and EU / Non EU Agriculture.
THE CERTIFICATIONS OF ORGANIC OIL
To certify the compliance of the processes that lead to the production of organic oil, we use control bodies directly authorized by MIPAAF (Ministry of Agricultural, Food and Forestry Policies). These control bodies, after carrying out their investigations, issue a certificate without which it would not be possible to sell the oil as organic.
THE TRADITION OF APULIAN ORGANIC OIL
Puglia is by far the Italian region where more tons of extra virgin olive oil are produced every year and it is no coincidence that an olive tree is represented in the official coat of arms of the region. Of all this oil, a good percentage is made up of organic production, made easier by the favorable Mediterranean climate.