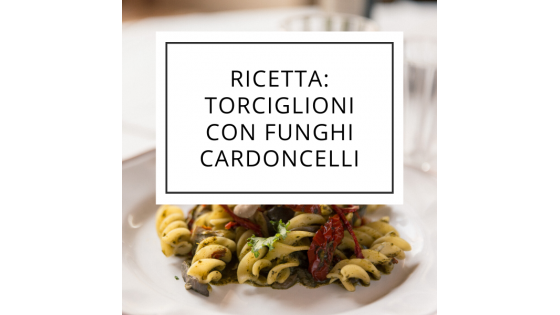 Recipe: Twists with turnip cream, cardoncelli mushrooms and dried tomatoes
Today, under the expert guidance of our Chef Giuseppe, we will talk about one of our quick recipes: torciglioni with turnip cream, cardoncelli mushrooms and dried tomatoes, an evocative dish that incorporates the typical flavors of the Apulian cuisine, also winking at the kitchen modern.

 
INGREDIENTS FOR 4 PEOPLE:


    320g of torciglioni (type giant fusillo);
    1kg of turnips;
    500g of cardoncelli mushrooms (but mixed too are fine);
    10 dried tomatoes (San Marzano);
    Extra-virgin olive oil as required;
    salt;
    1 clove of garlic;
    a glass of white wine;
    parsley;
    anchovies (optional);
    hot pepper (optional);
    croutons of bread (optional).

 
PREPARATION:

Take the turnips and, after having cleaned and washed them carefully, cook them in plenty of water for about 20 minutes. Once the turnips are cooked, remove the excess water, then blend and salt as required.

In another pan, meanwhile, cook the mushrooms (after having been cut and washed well) with a little garlic, chilli (if you like), parsley and salt as required. Sfumateli with white wine and, if you want, add anchovies. Finish cooking by adding the dried tomatoes cut into julienne.

Cook the pasta in a pot. Drain and assemble it with the turnips and the fried mushrooms, and if you want, you can decorate the dish with some fried bread croutons, to add that touch of crunchiness to the dish.